~ Images from the Road ~
(Remember to click on the thumbnails for enlargements of the photos)
For an ongoing photo gallery of various doors and doorways we've come across, see Portals of the World
Bali

There's always a festival going on in Bali. We came upon this one while viewing Mt. Batur, an active volcano on the island. People were praying and chanting, and the table is piled high with offerings, including a rather ornately decorated pig's head.

When Wiley spotted this frog at an Ubud restaurant, we all said no way, that's no frog, that's a bug. But sure enough, it WAS a frog, and the tiniest frog I've ever seen at that.

The rice terraces of Bali are so incredibly beautiful, it's hard to believe that their design was not deliberately artistic. Actually, they're built that way to allow flooding of the rice fields once the seedlings are planted.

The Balinese leave offerings for spirits and gods everywhere - in the street, in doorways, and at temples. They're all biodegradable, so there's no huge trash problem, but somebody has to dispose of them, and the scavenging stray dogs and cats usually oblige, like this kitty we saw snacking on rice cakes at a temple.

Andre' snapped this incredible picture of people's silhouettes in front of the last of the Kuta sunset.

This is a shot of the rooftops of Pura Besakih, Bali's most important temple complex.

Remember this face...one day you will see it in the world sumo wrestling championships...that is, if you're into sumo wrestling.

After 15 years, I still can't keep my hands off him!
Thailand
This Lisu woman was sitting on a rock, enjoying the late afternoon sun in the valley.

I caught this cute Lahu boy climbing a tree outside his school house.

Many people in the hill tribes chew a plant called bettlenut. It's a mild stimulant and has effects much like nicotine, but it also has the nasty side effect of staining your lips blood red and your teeth black. I have been told, however, that despite the complete lack of dental care these people receive, their teeth are rock hard and extremely healthy.

At 50 Satang Bar in Pai, Pong and his father mix homemade rice whiskey and various herbs into potions that they say will cure a number of ailments. With names like Stop The World! (boosts energy), Buffalo Power (increases bodily strength), Horse Power (increases blood circulation), and Eagle Power (relieves backache), you've got to try several.

I thought this was a very cool picture of the last of sunset one day in Pai. The flash lit up the banana trees in the foreground, and the sky looks red hot as the sun sinks away.

We have ridden in these wacky death traps all over Asia. In India and Nepal they're known as auto rickshaws or scooter cabs, and in Thailand they're called tuk-tuks. The Thai tuk-tuks are definitely the most sporty, as evidenced by this picture.

The islands of the Gulf of Thailand are covered with coconut palms. In this picture taken on Koh Pha-Ngan, workers remove and burn the tough outer husks of the nuts to prepare them for shipment.

Somebody quick! Take this idea and run with it! In Thailand they recycle old tires and make these very cool and very comfortable outdoor chairs. We also saw old tires turned into baskets to hold trash and yard trimmings for pickup.
Orchids grow everywhere, much like weeds in our yard, in Thailand. People often reuse old coconut husks and turn the into orchid planters. You can buy a bunch of seven or eight sprays of orchid blossoms for 40 baht in flower shops in Bangkok - that's less than $1.

We are always on the lookout for interesting business opportunities on the road. Internet cafes seem to be in every town we have traveled to. The speed of the connection, the quality of equipment, and the price of usage varies greatly, but they are definitely a fixture in tourist areas. This Internet cafe won our admiration, because they offered an hour of free Internet access with every foot massage. What a concept!

This lovely Thai girl sells little floats made from palm trunks, banana leaves, flowers, candles, and incense for celebrating the festival of Loy Krathung in Bangkok.

Make no mistake: Thai is a difficult language to speak, and you're not going to get much past "Hello" and "Thank you" in your first week there. Lele, ever the vigilant traveler, showed up in Thailand with a phonetic pronunciation guide for many oft-used Thai phrases. Here, she successfully negotiates an order for coconut ice cream at dinner.

During our first dinner in Thailand, we became acquainted with Tom Yum Khaa, a soup we thought we knew from the many times we'd had it at Thai restaurants in Atlanta, but proved to be very different when ordered in Thailand. Wiley braved the intrepid seas of foreign cuisine by digging right in to a delicious chicken claw. Mmmm, mmmmm - not much meat, but damn! that cartilage is tasty!

Many of the Buddhist temples we entered in Thailand were filled with golden images of the Buddha. There are over 100 physical characteristics that Buddhist use to identify the Buddha, including long ear lobes, curly hair, and fingers and toes that are all the same length.
Nepal

Traditional mud house around Chitwan National Park, brightly decorated for the festival of Diwali.

Just another gorgeous Himalayan view, this one of Dhaulagiri I.

In the Himalayas, dawn sometimes comes late and sunset comes early, due to the fact that you are often surrounded by huge mountains.

The Buddha's eyes follow you all over Nepal. Signifying enlightenment, monuments all over the country are painted like this one in the Himalayas.

In the high altitudes, cows, sheep, goats, and horses have all adapted to the bitter cold with extra furry coats. This adorable little calf wandered forlornly around Muktinath, looking for its mother.

Life in the Himalayas is hard, and everyone has to earn their keep. These Muktinath chickens work hard at the loom to weave beautiful scarves to sell to tourists...
Ferocious stone lions in outrageous colors guard the entrances to many of the Hindu temples in Kathmandu, perhaps to scare away the non-Hindus.

Nepalese kids are the cutest and friendliest we've encountered. These Kathmandu kids posed for us in the doorway of a courtyard, and followed us down the road, giggling uncontrollably, after we showed them their picture on the digital camera.

In Nepalese Hinduism, devotees can sacrifce animals in two ways: they can bring them to the temple and slaughter them there, or they can tie them up in front of the temple and leave them there. Apparently, people feed the animals, like this huge bull living in front of a Kathmandu temple, but it looked like a pretty miserable existence.

We take running water in our houses so much for granted, we forget that many people in this world don't have it. Here in Kathmandu, city residents come to this public bath to bath, wash clothes and dishes, and socialize.
India

This man claimed to be cracking Wiley's back, but I think he just wanted to give him a hug.

Hindus use colorful dyes in celebrations, throwing them all over everything and everybody. The vendor who owned this shop in Pushkar found a particularly eye-catching way to display his wares.

When the inside of the bus is full in India, go up top! Not recommended for inexperienced tourists...

Small offerings like this one in an Udaipur doorway can be seen all over over India.

The ceiling of the bedroom of the Maharaja of Jodphur was beautifully decorated with these huge glass balls.

In Jaisalmer weddings are announced by painting an image of the god Ganesh on the wall of the bride's house. Ganesh is one of the most popular Hindu gods, bringing wealth and prosperity to his devotees.

This beautiful young woman sold vegetables in the small town of Fatepur.

We've replaced one of the normal palace guards with an unemployed American tourist. Can you tell the difference?

Indians love festivals, and they love decorating their cities with bright colors for them. This design was painted on one of the streets of Jaipur for a big business conference that was being held there.

Unable to ply his trade on the female population of the world at large for nearly 15 years, Wiley tries his hand at charming cobras.

In what must be the world's greatest example of irony, in Jaipur we saw this silver vessel that one of the Maharajas used to carry his own drinking water, pulled straight from the holy Ganges, when he traveled to England, apparently not trusting the water there.

Here's me, posing in the traditional Indian method of getting around, a palanquin.

Indians like to decorate their livestock. We've seen pink cows and blue goats on more than one occasion. Also, it's unthinkable not to give your oxen a nice paint job on their horns and some tassels to wear on their heads.

This woman sells fresh produce at the market by the bathing ghats in Nasik.

Hindus use colorful powdered dyes to celebrate in their many festivals.

In the grassy area next to the Gateway to India in Bombay, families sit and talk and share picnics, and vendors sell their wares to the crowds. The young salesgirl was selling balloons to parents for their children.
Greece

Do you think this Greek guard saw the uniform before or after he applied for the job?

You haven't truly experienced claustrophobia until you've been trapped in the hold of a Greek Islands ferry waiting to dock. Here the masses stream aboard the ferry bound for Athens from Myconos.

Naxos turned out to be one of my favorite Greek Islands. Here's a shot from inside a quaint grocery store, which sells interesting local items.
Turkey

About the only advantage to visiting those really touristy carpet shops is that they're all set to give you the complete story of how carpets are made. At Carpedocia (you gotta love the name), they demonstrated for us how silk worm cocoons are boiled (including the live silk worm inside), and then how the fibers are pulled off the cocoons and spun into silk thread.

Gurzell, our van driver, was an accomplished reader of coffee grounds, in addition to being a civil engineer (apparently van driving pays more in Turkey). He told me that I was going to come into a lot of money. He told Wiley that he had many roads to travel. Hmmm.....

One of the main drawbacks to city life, in my opinion, is that it's nearly impossible to find a good tomato. Here's a whole pile of perfect ones, like many we saw all over Turkey, at the Saturday produce market in Urgup.

After a day of site seeing we stopped to have dinner with a relative of Filiz, who lived in a small village close to the Neolithic civilization of Catal Hoyuk. The old woman made us a dish called gozleme, which involves rolling out dough into a very thin circle, spreading goat cheese and herbs inside it, then folding it into a half circle and cooking it on a metal disk over a fire. The final touch: coating the whole thing in melted fresh butter. I will need a personal trainer when I get home...

Wiley got his second straight razor shave in Turkey. He wanted a real Turkish shave, where they finish the job off by dousing your ears with alcohol and burning the hairs off, but we later found out that you have to ask for that specifically.

The lady who hosted us at her night club also graciously gave us a tour of the beautiful house she recently restored. It was built out of the local rock and partially carved into some of the natural formations. Some of the decorating was a little bizarre, especially this negligee-wearing mannequin who occupied a nook on the patio.

These puppies had it made. They lived at Kadir's Treehouses in Olimpos, had a constant stream of love and affection from the many guests there, plus all the watermelon and milk they could stuff themselves with.

We stopped in the coastal village of Cas one day for lunch. What a quaint and lovely place, and we both wished we had more time to spend there. This picture is of the fishing boats in the harbor. Fisherman repair their nets after a day's work.

We miss our cats, but not so much when there are friendly substitutes around, like this sweetheart who crawled up in my lap at Ephesus.

You learn something new everyday when traveling around the world...Here's a method of fishing that seems to require a minimal amount of effort on the fisherman's part. Tie fishing line to a bottle, bait the hook, position the bottle on the shore, and wait for the bottle to be yanked into the lake. Then you just pull the bottle, fish and all, back onto the shore with the landline. Mmmm...trout...

All around the Turkish countryside, fields full of sunflowers under cultivation are visible. Several years ago many Turkish women abandoned their traditional olive oil and switched to sunflower oil for cooking. Now most of them are back with the old standby, realizing that it is a much healthier choice.

Five weeks in Turkey, a country famous for belly-dancing, and the only belly dancer we see is male...

I've never seen anything like the gravestones in Turkey. They are topped with stone fez's and turbans, I suppose indicating the honoree's social or religious status. This calico cat posed perfectly for me on top.

I think I could live in Istanbul. All my favorite flowers - glads, lillies, gerbera daisies - on sale all over town.

Here's one for the strange custom column. All over Istanbul we have seen little boys dressed in these costumes. Are they in a band? A play? No, they're getting circumcised! In Turkey, a little Muslim boy gets circumcised when he's ten (ouch!), and on that day he dresses in an outfit like this, he gets presents and a party, and his parents have to do whatever he says. That is, until it's time to go to the doctor....

In Istanbul, Wiley finally succumbed to the "Shine your shoes, Mister?" plea he has heard all over the world, mainly because this shoe shine stand was so cool. Unfortunately, this kid turned Wiley's boots a lovely burnt orange color.

Turkish food is sooooo tasty. These women are making Turkish pancakes, which are thin, grilled bread, stuffed with feta cheese, lamb, or spinach. Good eatin'!

What do they do with all the non-perfect produce in Turkey? I don't know, because on every corner there are fruit and vegetable salesmen selling the most beautiful, unblemished produce I've ever seen. Oh yeah, and it's all stacked nicely, too.
Islam forbids the representation of living things in artwork, so the Ottomans became quite accomplished tile makers. Here is an example of some of the beautiful tile that decorates palaces and mosques in Turkey.
Egypt

Camels are truly amazing creatures. Able to go up to six days without water, they are called the "ships of the desert". I never got tired of watching these strange, noble beasts.

Two things I'll remember about Egypt - people carrying things on their heads and terrible traffic. Here a guy risks life and limb by carrying a huge pallet of fresh-baked bread on his head, while riding a bicycle through downtown Cairo.

In Egypt, everybody wants a tip, and some people try harder than others to earn it. Our maid in a hotel we stayed at in Cairo made our bed look like something out of a honeymoon resort in the Pocono's.

Who says you can't get a man to do the household chores? Sometimes, when we send our clothes to the laundry, they come back looking worse than when we sent them, so this time, Wiley takes matters into his own hands.

More trepanation...this time performed by the ancient Nubians, 2000 B.C.

Forget McCormick's...in Egypt you buy your spices, freshly ground, from a guy on the street.

If you're going to be a cat living on your own in Egypt, you'd better learn some tricks for the tourists.

All along the Nile in Egypt, you encounter boatmen with feluccas, small sailboats, for hire. Here some ply the waters of the Nile around Aswan.

What these guys won't do for a little baksheesh...This worker at Hatshepsut's Temple insisted that I sit with him and hammer rocks while Wiley took a picture. He was somewhat disappointed with the size of his tip.

Those of us who have traveled with Wiley's mother, Tay, know that she is an exceptional amateur tour guide. We found this travel agency in Luxor - it does have a nice ring to it, doesn't it?

Egyptians love sugar, and one of the things we saw them consuming quite frequently was fresh-squeezed sugar cane. This guy has just taken canes, fed them into this machine, which then squeezed the canes and shot the juice out the bottom into the waiting pitcher. Ah, cavities in a glass...

This is what I mean by everything in Egypt looking like it was built for a movie set. This stuff is 3500 plus years old, and some of it looks brand new! These are some columns with particularly beautiful paintings at Medinat Habu in Luxor.

Another beautiful sunset on the Long's Strange Trip. Sunset over the Nile, with the Cairo Tower in view.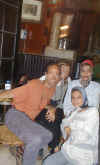 Here's something that doesn't happen everyday...we were having coffee at Fishawi's, which is a very old coffee house in the area of Cairo known as Islamic Cairo. This place has been open 24 hours a day for 200 years! Anyways, these girls came up to me and gestured with their camera, and I said, sure, I'll take your picture. They then made it clear that no, they wanted us in the picture. Not sure why, they didn't speak English, so we couldn't chat, but they were very nice and took a couple of pictures of us, so we took a picture of them, too.

This is what happens when you show up at the mosque without your headscarf...In the background is the mihrab of the Al-Ahzar mosque. The mihrab points the way to Mecca.
Morocco

Here's a strange one...when the Moroccans make a religious pilgrimage, they like to take home a souvenir. What's their favorite? Nougat! I know, you thought it had to have caramel, peanuts, and chocolate, but they like it solo, thank you, in a myriad of flavors and rather unappetizing pastel colors. This enterprising salesman tried to get us to buy a pound of the stuff.

I made this picture for my father, who is an avid wood-worker. Daddy recently spent a large portion of my inheritance on a new lathe for his shop, which subsequently underwent an extensive expansion in order to house said lathe. This guy is making shish-ka-bob skewers the old fashioned way, by turning the lathe with a bow-type device that is moved rapidly back and forth across the wood spindle.

Another market picture. I love markets, and we saw men selling olives heaped in elaborately arranged mounds all over Morocco. Morocco is the world's largest exporter of table olives, and you usually get some with every meal. They are delicious, and there are many varieties. Often I couldn't help but think how great they'd taste in a dry vodka martini...

Travel is dangerous. It sometimes can give you the feeling that it's all about you and your adventure. You're in a place, maybe for a few days, and you move on. But then you see something like the fishermen in this picture, unloading the catch, just like they do everyday of their lives, and you get a sense of permanence, a feeling of groundedness.

Walking down the road to Volubilis, we spotted these two dung beetles doing, well, what dung beetles do.

With football season less than four months away, don't we all need to be reminded to show our support for the Big Orange?

The ever-changing dunes of the Sahara

Fes made quite an impression on us, because we saw so many craftsmen plying their trade by hand, as has been done for centuries. Here a dyer squeezes dye out of a skein of silk thread.

A beautiful place at sunset, the ruins of the Merindes tombs in Fes

This picture is what happens when tourism runs amok. These guys are dressed as traditional Moroccan water sellers. Years ago, they sold water from goat skin bags in public places. They wore these elaborate costumes and rung bells to announce their presence. Now everyone drinks bottled water, and these guys get $2 a pop for a picture. The guy on the right should have given ME money, since he was holding me a little tighter that I felt necessary. (note - since writing this, we see that these types of water sellers do really exist, and do really sell water for a living, though usually not so ornately dressed.)

I really like this photo because it reminds me of two things I will always associate with Morocco: collecting alms on Friday, and cats. One of the Five Pillars of Islam is giving alms to the poor, and on Fridays we often saw beggars, like the woman in the photo, going from store to store asking for money. Also, cats are everywhere in Morocco, and they're all very friendly (especially when you're eating), so we missed our guys a little less while in Morocco.

Sometimes when a man won't shave himself, you have to take matters into your own hands. Here a Fes barber lathers Wiley up for his first-ever straight razor shave, much needed.
Peru

To the people who live on the Amazon and its many tributaries, the river is life. Here local women wash clothes and play in the water.

In the jungle, plants are used for a huge variety of things. The Yaguas Indians use the seeds of this pod for war paint.

Something that produced mixed-feelings in me was local jungle people keeping otherwise wild animals as "pets". At this house there was this anaconda, two three-toed sloths, and an iguana. While I was glad to have seen them, I felt certain they would be happier in the wild.

A fact of life in the jungle is that animals are killed for food, and their babies are left as orphans. This little Yagua Indian girl got a tiny baby monkey as a pet, and the monkey took up residence on her head!

We stayed at a beautiful hotel in Aguas Calientes called the Machu Picchu Pueblo Hotel. I definitely recommend it after 4 days of roughing-it on the Inca Trail. There was a beautiful orchid garden at the hotel, and we got this great close-up of an orchid in bloom.
It's the rainy season in the Andes, and the river that runs through the little town of Aguas Calientes could rival the Colorado. Huge boulders in the river bed make for some amazing rapids. No one rafts this river, as the rapids are considered to be class 8 or 9 (not navigable).

Peruvian children are, almost without exception, healthy and robust-looking, despite the fact that many of them live in what would be considered poverty by first-world standards. This is Lisabeth, the daughter of our host on Taquile island. She came in to play with us while we were having dinner one night.

What would a trip to Peru be without the requisite llama picture???

Ollyantatambo is an ancient town we stopped in on the way to the Inca Trail head. Built by the Incas, it has a timeless feel. Here's me standing in one of the many narrow streets. It's common to see cactus growing on top of stone walls in Peru. It serves as decoration and burglar-deterrent.

Wiley bought this poncho from this cute old lady at the Cusco market. She had the biggest, tooth-free grin I had ever seen! She was delighted to see her picture on the LCD screen on the digital camera.

Email us at christieandwiley@longsstrangetrip.com
Home | About us | Sabbatical 2000 | Itinerary | Journal 2000 | Images from the Road | Just like being there | Gear and Resources