~ the Long's Strange Trip Great Hanukkah/Christmas/Kwanza/Ramadan T-Shirt Giveaway Bonanza ~

And the winner is....
On New Year's Day, we convened a distinguished panel of international judges, all representatives of the prestigious accounting firm of Price-Waterhouse/Coopers, in order to ensure a scrupulously above-board selection process. Led by Randy, our experts included Evil Santa, the Buddha, Incense Man, Christmas Cat, and a small firecracker.
A box was filled to the brim with pieces of paper, each one containing the name of a dedicated Long's Strange Trip reader who had diligently ordered his or her gifts through LST's amazon.com link. Luckily, you did not have to be present to win. As the tension mounted, Randy performed the honors, and drew the name of Winnie Fetell of Atlanta!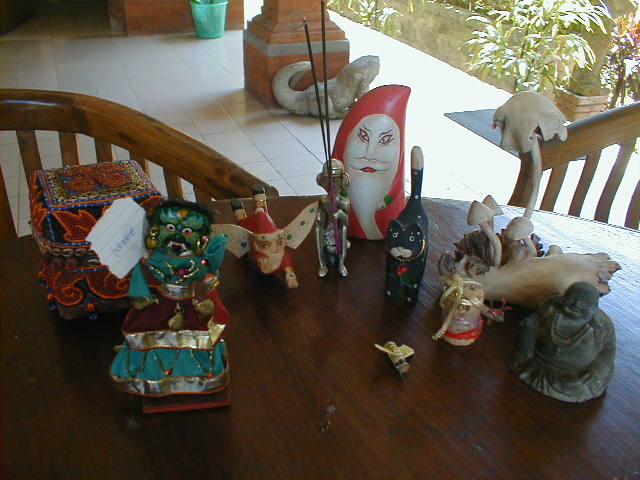 But not to be outdone, Evil Santa pointed out that Winnie's entry contained not only a hanging chad, but also a dimpled one! He demanded a recount, but we were not so easily strong-armed by a poorly carved wooden statue, and were quick to notice his resemblance to Al Gore. We doused him with cheap Indonesian rum and set him aflame, thus preserving democracy and Winnie's victory!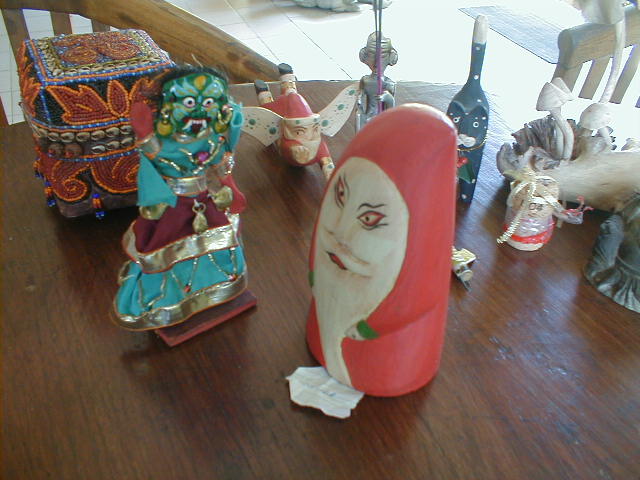 ---
That's right folks: the season is upon us. With less than a month until Hanukkah and barely six weeks until Christmas, unless you're Wiley's mother and you had your shopping done in February, you'd better get on the ball. Rest assured, the Long's Strange Trip is here to help. Once you click on the link below, your shopping's virtually done:

It couldn't be simpler! Let amazon.com take care of all your shopping needs, including:
the hottest-selling books!

kitchen gear for the most picky gourmand!

the latest movies on video and DVD!

chart-topping music!

the coolest electronic gadgets!

the toys your kids are demanding!

software and video games for every geek on your list!

tools and hardware for the handy man (or babe) in the family!

and for the lucky 16 year-old on your list, new cars!
Lest you think this is just a shameless attempt at financial gain on our part (and we want to tell you that that hurts us deep inside), we're here to prove that we're givers. We're offering a chance to win the most coveted fashion accessory of the millennium, the limited edition Long's Strange Trip T-Shirt!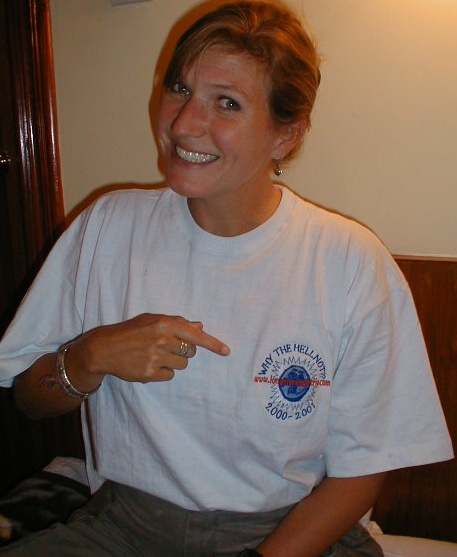 Friends, this is a first-quality, 100% cotton, extra-large beefy T, embroidered (yes, embroidered ) with the Long's Strange Trip logo, direct from the fashion capital of the Himalayas, Kathmandu, Nepal.
But how do you win? It's simple. Each and every time you place an order with amazon.com through the Long's Strange Trip, dash off an email to christieandwiley@longsstrangetrip.com with the subject "I ordered!" (Amazon sends us a quarterly email with "what" was ordered, but we don't know "who" ordered, lessening the embarrassment for those of you who might be into things we don't want to get into on a family web site.). For each email we receive, we'll place your name in a drawing to win this fabulous prize. As for us, we'll be carrying a large barrel filled with names throughout Thailand and Bali until the big drawing on January 1, 2001.
The United States government requires us to tell you that no purchase is necessary to enter this contest, so if you can find us, you can send us a 3 x 5 index card with your name, address, phone number, and a 500-word essay on why we should consider your entry even though you're too cheap to order anything from us.
So bookmark this site now. If you've already got amazon.com bookmarked, as most of the free world does, change your bookmark now. Start ordering today.