~ Parasites, Amateur Dentists, and Snake Charmers ~
April 25 through May 9, 2000
$1 U.S. = 10 dirhams
(Remember to click on the thumbnails for enlargements of the photos)
Southern Morocco
April 24 through May 3

(ccl) I don't know of any other country that's smaller than California that rivals Morocco for sheer diversity of landscape. Riding through southern Morocco, we saw it all. Parched riverbeds. Red cliffs. Verdant green oases. Rich farmland. Snow-capped mountains. Add to this the crumbling ruins of many former settlements and kasbahs, and you have a fascinating and breathtakingly beautiful journey.
After breakfast and a shower (promised to be hot; actually cold, but who needs hot water in the Sahara?) we set off for our next destination, the Todra Gorge. There were some German tourists who had spent the night at the inn who asked us if we were hiring a guide to take us back to Erfoud from the desert, and when we said no, they asked if we had a GPS. We definitely did not see the need for a guide, as all roads eventually end up at the same place. But they wanted a guide and didn't have room in their car, so we agreed to take Hammid and Adeal in our car, back to Erfoud.
After cashing some traveler's checks at the local bank in a process similar in complexity to applying for dual citizenship, we were on our way. Our destination: the Todra Gorge. After about three hours of driving we got there, only to find out that both hotels were full. No problem: one place would make us a bed in the upstairs dining room. Since we had slept outside the night before, we were cool with that. We headed out and did a little hiking in the gorge, which is quite beautiful, especially at sunset.

The next day we were up early, awakened by a huge group of Italian cyclists who were up getting ready for their ride. We ate our breakfast, which was included in our 50 dirham per head lodging price. Every time we eat an "included" breakfast at a hotel, we wonder: who decided that a roll, coffee and juice is breakfast? Is this a European thing? Because it's kind of absurd, when you think about it. Where's the protein?? Probably hotels invented it, so that they could make it look like they were adding value by throwing in breakfast, when in reality it costs them about 10 cents to serve.

The drive continued to get more beautiful as we got further away from the desert. The Dades Gorge is close to the Todra, and while our book talked up the Todra Gorge as being more spectacular, we actually liked the Dades Gorge better. It doesn't have the sheer rock walls and narrow canyon, but the floor is quite beautiful and lush and the buildings are a deep red color, which comes from the mud used to build them. We stopped to buy some souvenirs from a nice couple, and she insisted on dressing me for a photo opportunity. It doesn't show up in the picture, but this woman was a true Berber, one of the many indigenous tribes of nomads who have wandered the Sahara for many hundreds of years. She has the distinctive tattoo on her chin that the people of the different Berber tribes put on women to indicate which family they are from. I don't believe the practice is as widespread as it once was. Now you pretty much only see older women with the tattoos.

There is a tree that grows only in southern Morocco and parts of Mexico called the argan tree. This multi-talented tree has many uses. The wood is extra hard, so it makes good charcoal. The fruit is good for cattle fodder, and can be fermented into an alcoholic drink. The oil from the kernels is used in cooking, in the preparation of sweets, and when combined with almond paste and honey it makes an incredibly delicious "butter", of which we bought a jar (we have both been craving peanut butter, which only seems to be available in the U.S.). The most amazing use of this tree, however, is made by the local goat population. Apparently, when the trees bloom in the spring, goats love the tender leaves that come out. I don't know how they figured it out, but somehow they learned how to climb the argan trees to get at these leaves. We slammed on brakes and squealed to a halt when we came upon our first sighting of a tree full of goats. It was a bizarre spectacle.
We had read in our guidebooks about a little town called Immouzer des Ida Outanane, which was supposed to be especially picturesque, and which is famous for spectacular waterfalls in the spring and a honey festival in the summer. That was our next destination, but we couldn't drive it all in one day, so we spent the night in a small, bustling town called Taroudant. The hotel we had picked out of the book was full, as were two others we checked. This always incites near panic in me, as I reconsider our night spent on the street in Madrid, and am hesitant to relive it in Morocco. The third place we checked had rooms, which cost 30 dirhams per person, no bathroom. I figured this would work, since we had reservations the next night at a little hotel in Immouzer that both of our guidebooks had raved about, and hey, you can deal with anything for one night, right?
We went to bed early that night, as Wiley was not feeling great. We had both been feeling less than great for a couple of days, but figured it was just the strange food. We were awakened around 2:00 by shouting outside our door. It seems that some of our fellow guests had found the local source of hootch, and one had gotten remarkably drunk and argumentative with his pals. Moroccans are argumentative to begin with. All over this country we have watched as people, usually men, yell and scream at each other, then go about their business. I guess it's the culture. One of the guys who worked for Wiley in the insurance business was Syrian, and during one of their frequent arguments he explained that arguing is part of the Middle Eastern culture. But when this argument kept up for more than a minute, I stuck my head out the door in order to glare them into silence. That didn't work. It kept up, and it sounded like somebody was going to get hurt. The next time we looked out the door, the police were there. I was reminded of one of my father's favorite sayings, "You get what you pay for," and in the case of a $6 hotel room, we certainly had.

The drive to Immouzer was spectacular, as the guidebooks had promised. It wound up through a beautiful canyon, and the floor below was covered with farms and palm trees. The hotel was also as promised, although the weather had gotten cloudy and we couldn't enjoy the pool. We hiked to the site of the waterfalls, but due to the drought, there were none. It was still a beautiful area, and nice to stay in a really good hotel after the two slightly dicey nights previous.

The next morning we left for the final leg of our trip through Morocco by car, a little fishing village on the Atlantic called Essaouira. At this point I was feeling really awful, as Wiley had two days prior. We got to Essaouira and I crashed. It was a beautiful, quaint place, that was alive with tourists and locals alike, but I could have cared less. By the next day, Wiley was sick again. This sent me to our Travel Medicine Guide for a consultation. Obviously, we were no longer dealing with a simple case of traveler's stomach, as this had been going on for several days now. Some people will tell you not to buy the pre-made first aid kits that are sold at traveler's specialty stores like REI and The Civilized Traveler. They say you can easily make up your own with stuff you can buy at the drugstore. This might be true, but I was particularly glad that we had one we had bought at REI, because it contained a little book that reviewed the symptoms and cures of many common travel-related illnesses. It was here that I discovered, through a somewhat obscure symptom description that I won't burden you with, that we both had contracted the water-born parasite, giardia. The book told exactly what to take and how much, so I headed off for the pharmacy. We were both feeling much better in 48 hours. I can't imagine how we got it, since we are very careful about drinking water, and never use the water from the tap in any hotel, regardless of how nice the place is.
Somehow we managed to pass a week in Essaouira. After we spent the first couple of days recovering, we just kept saying, "How about one more night here?". We spent the days sunning ourselves on the terrace of our hotel, and the nights wandering through the narrow streets, shopping and eating great food. Travel is hard work - don't let anyone kid you about that. One of the unique things about Essaouira is a fresh fish market right by the waterfront where you can pick out your fish and get it grilled while you wait. Served with fresh bread and a tomato and onion salad, it makes a delicious meal, and you can't beat the view.

Marrakech, Morocco
May 3 through May 7

(ccl) I guess my first clue that Marrakech was going to be unlike anything we had ever seen before came when our bus from Essaouira stopped and picked up a gum-chewing monkey as a passenger. There is a huge paved square in the middle of the Marrakech medina, and all roads lead there, literally and figuratively.
Djemaa el Fna, as that square is called, is the main attraction in Marrakech, and what goes on there probably fits most people's image of Morocco. The plaza is the main gathering point for locals and tourists alike, and we found ourselves drawn to it repeatedly. Different things go on there during different times of the day. Sometimes there are veiled women using syringes to pipe henna designs onto the hands and feet of waiting tourists, other times there are snake charmers blowing exotic tunes from flutes, apparently mesmerizing nearby cobras. There are all types of herbal medicine practitioners, and there are a couple of guys there who will (supposedly) pull a nagging tooth for you. There's usually someone testifying about the power of some particular product, and there are clumps of people listening as two or more of them argue a topic, "Point/Counterpoint"-style. At night, the fire eaters, storytellers, and musicians come out. There are food vendors selling everything from fresh steamed escargot to goat's brains to couscous to lamb kebobs. It's all cooked fresh, right there, and everything we ate was quite delicious (sorry, can't give you a report on those goat's brains). The perimeter of the whole circus is lined with carts from which men hawk fresh-squeezed orange juice, and they compete furiously for your business. Moroccan citrus fruit is absolutely fabulous, much better than anything I've ever had from Florida. Minute Maid will never gain a foothold here, when a glass of the fresh-squeezed stuff can be had for 25 cents.

The air is electric in and around Djemaa el Fna. Around 6:00 PM, things really get going, and people pack the surrounding streets, strolling arm-in-arm, enjoying the weather and the atmosphere. One aspect of Djemaa el Fna that is especially nice is that the place, while certainly in large part catering to tourists, is also frequented by Moroccans. It's unusual to see Moroccans elsewhere in the country eating out, so we enjoyed sharing meals with many friendly people. The pressure's off here, because everyone's just out to enjoy some entertainment or food. No one's trying to hustle the tourists, because the brigade touristique is out in full force, and there are stiff fines to be paid for hassling. Many people asked us where we were from in halting English, and most wanted no more than to say, "Welcome to Morocco".

Wiley and I compared the scene at Djemaa el Fna repeatedly to the New Orleans Jazz and Heritage Festival, an annual ritual that we missed last weekend for the first time in 10 years (and vowed that we would never miss again, as long as there is breath in our bodies). There are plenty of strange people doing myriad things for money, there's music, there's great food to be had a ridiculously low prices, and the weather is great. The only thing missing from the scene was the Slidell Lion's Club and their Miller Lite concession. Alcohol is a little hard to get here in Morocco, but not impossible, as it is in other Muslim countries. Most of the medium to large hotels have bars, and many restaurants are licensed, but it's expensive, relatively speaking. Often two beers (or even just one) will set you back more than the food itself.
We visited all the interesting sites in Marrakech. The 16th century Saadian Tombs were discovered only in 1917, having been sealed off by the villainous Moulay Ismail, a17th century Allaouite sultan who often had slaves killed simply because he didn't like the color of their clothing on a particular day. And you thought women were moody. The tombs were used as a burial chamber for the Sultans and their families of the Saadian dynasty. The plaster and cedar carvings are quite ornate, as are the plots themselves, which are covered in zellig tilework. Islam strictly prohibits the use of any type of iconography, hence the use of ornate tilework as decoration.

Another fascinating site in Marrakech is the El Badi Palace, also dating to the 16th century. The "palace" itself isn't much more than a massive area surrounded by red earth (characteristic of Marrakech) walls, because all of the gold, onyx, and marble was looted and carried away by that perennial bad guy, Moulay Ismail, to decorate his favorite city and the capital of his empire, Meknes. The highlight of this visit wasn't the palace itself, but an exhibit inside the palace that contains the recently restored 12th centuryminbar from the Koutoubia Mosque. The minbar might be compared to the pulpit in a Christian church. The imam, the spiritual leader of the mosque, climbs the minbar, which looks like an unattached stairway, to deliver the sermon at Friday noon prayers. It was amazing that this piece had been in constant use for almost 800 years before it was restored, with the help of the Metropolitan Museum of Art in New York and placed on permanent display in the palace. Sorry, no photos allowed, or we'd show you a picture. It was amazingly intricate, with teeny-tiny pieces of carved inlaid wood and bone.
We finished off our last day in Marrakech by running errands and working on the computer. We've had a lot of trouble accessing our bank account from Morocco, only being able to get into it twice. We think it may have something to do with the Internet congestion within Morocco - someone told us that there are only four Internet points-of-presence in all of Morocco! Since we can't dial in with our computer, we're left to buy time at Internet cafes, which is slightly more expensive here and usually slow. We did find a place with decent speed in Marrakech, got our banking done, then headed to the train station, where we bought tickets for Casablanca, and I sit on that train as I write this, gliding over the arid Moroccan countryside, glimpsing a crumbling kasbah or two every now and then. In two days we fly to Cairo, where we start a new adventure in the valley of the Nile.
Casablanca, Morocco
May 7 through May 9
(ccl) Casablanca is a new city on the Moroccan landscape, having been around only a couple of hundred years. The medina isn't much to speak of, but it's the biggest, most modern city in Morocco. The train ride there was very pleasant. Whatever unconscionable things the French did to the Moroccans during the time of their "protectorate", they sure built a damn fine railroad. We made the trip in three hours, checked into a nice hotel, and got a balcony looking down on the street.
There's some interesting architecture in Casablanca, most of it 19th and 20th century, and it's a pleasant place to walk around. There are bars in Casablanca, which you don't see much of in other Moroccan towns, and it shows. You'll be casually walking down the street, and you'll pass a doorway, and all of a sudden you'll be greeting by a cacophony of drunken, slurring voices, shouting, "Welcome to Morocco!", and "How are you? I am fine!". Certainly a sign of friendliness but disconcerting, nonetheless. Not the kind of place you'd go into for a drink.
We needed traveler's checks. You may have read Wiley's account of our Travel Challenges, and if you have you know that we discovered after leaving the country that our American Express ATM card doesn't work outside the U.S. "Don't leave home without it!" Anyways, we've been using our VISA card in the ATM's for cash advances, which we then pay back through our online checking account, but we also like to have traveler's checks. We spent one morning in Casablanca going to the American Express office to get $2000 in checks (AMEX will only let you have $1000 per month, per card). We had finally arrived at the end of a lengthy process which involved carbon paper (you know when they pull out the carbon paper that you are in for some bureaucracy) when she handed our paperwork to us and gave us directions on how to get to the bank to get our checks. For some reason, the AMEX office doesn't keep the checks, they just fill out the paperwork. So we trekked to the bank, where they spoke enough English to ask us to come back at 2:05 and get the checks. It seemed that they didn't have the key to the box where the checks were kept right then, but they would get it by 2:05. Here's the lesson: when you're in the third world, always expect things to take at least twice as long as they would have at home.

The main attraction in Casablanca is the seven year-old Hassan II mosque. According to our guidebook, it was the "gift of a thankful country to their beloved monarch", on the occasion of his 75th birthday. Every household in Morocco "donated" money to build the elaborately beautiful structure, which is the largest religious structure in the world, bigger than even St. Peter's Basilica in Rome. As non-Muslims, we are typically not allowed in the mosques in Morocco, but Hassan II was open to tourists five times a day. At 100 dirhams per person, the tour was more expensive by ten times any other monument we had seen at that point in Morocco.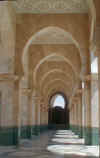 But there was no question but that we were going, as we had been in Morocco for a month, passing by mosque after mosque, peering in at people, but not being admitted. Let's just say that your curiosity gets the better of you. Hassan II has space in the main prayer hall for 20,000 male worshippers and 5000 female worshippers in the balcony (let's not forget that Muslim prayer services are segregated by gender), plus room outside on the huge marble-paved area for an additional 40,000 worshippers. The place even has two hammams , which are bathhouses for cleansing the body (very important in Islam), which aren't in use. The fact is, a lot of the external buildings aren't in use, because there is no money to open them. Wiley asked our tour guide how many people typically attend one of the five daily prayer services, on average, and she said 100 to 200. It was somewhat sobering, because you got the feeling that millions and millions of dollars had been donated by people who didn't have much to live on to begin with, for a monument that is rarely used.
This was our last day in Morocco, and we had a good lunch in the area of town known as the Corniche, which has lots of fancy beachclubs and restaurants. Still a little early in the season, so none of the clubs were open, but it looked like a fun area. Our flight to Cairo was at 8:40 P.M., so after lunch we headed back to our hotel to get our bags. I asked the front desk clerk at our hotel how much a taxi ride to the airport cost, and he told me 200 dirhams. This seemed like an exorbitant sum, but as I later learned, the airport is a good 45 minutes away. He told us we could take a train to the airport for 22 dirhams, but we missed that, so now we had to cough up the money for a taxi. We didn't have enough cash, and the cash machines told us that the link to VISA International was down (great timing), so we jumped in a cab with a guy who said he could take us to the Hyatt, where they would cash a traveler's check. Got the money, practically flew to the airport, and made check-in with plenty of time to spare. Ran onto the plane during final boarding call because we had stayed in the bar too long. Typical...
We flew Egyptair to Cairo. No doubt, by the end of this trip, we will have logged significant time with obscure air carriers, and don't think I wasn't thinking about that Egyptair flight that went down a few months ago with the pilot and co-pilot apparently struggling for the controls. I'm happy to report that we arrived safe and sound in Cairo, with no complaints of Egyptair, and now we begin another chapter in the Long's Strange Trip.
Click here to continue in Egypt with "Muslim Extremist or Salesman?"