~ All Aboard! ~
June 27 through July 5, 2000
$1 U.S. = 625,000 Turkish Lire
(Remember to click on the thumbnails for enlargements of the photos)
Canakkale, Turkey
June 27 through June 28 , 2000
(ccl) After suffering through yet another cold shower on the last morning of our stay in Istanbul, we drug ourselves down to the Turkish breakfast buffet one last time. We had gotten to bed pretty late the night before, because the hotel's credit card machine wasn't working and I went on a wild goose chase around the neighborhood with the owner looking for one that did work. Add that to the list of "issues" we'd encountered while staying at the Hotel Isak Pasa. While we were getting a great deal on a nice, big room with a phone and TV, it didn't get cleaned for several days (somehow due to the fact that the maid's daughter was getting married), we had a never-ending procession of ants into and out of our bathroom, and out of eleven days there, I had maybe three hot showers. At any rate, we were up and out of there by 6:45, because the Fez bus was scheduled to depart at 7:00 sharp, and we knew that if we weren't on time, they'd leave us.
Fez Travel runs a unique service in Turkey. catering to budget travelers of all ages. Every few days a Fez bus leaves Istanbul on a pre-defined route around the country. They have a few packages to chose from, but the most popular hugs the eastern and southern coastlines and then turns northward towards the interior of the country and the Cappadocia region. Since we are going to visit Cappadocia extensively with our cultural exchange group, Fez worked a special deal for us so that we could get off the circuit and continue to Ankara on our own. At any point along the circuit, you can hop off the bus, spend a few days as you like, then hop back on the next bus when it comes around, usually only two or three days later. Each bus, which are all clean, air-conditioned mini-buses, has a staff member on board who's known as an "off-sider". The off-sider's responsibilities include getting everyone back on the bus after stops, sharing a little information about the sites in the area, and booking accommodations for Fez travelers at Fez-approved hostels and hotels, if you so desire. We were able to get a nice, clean, double room for no more than 5 million lire per person at all of the locations Fez recommended. Plus, the bus drops you off and picks you up at the door of the hotel. It definitely beats public transportation. For independent travelers it's a nice way to relax and let someone else worry about the details for once. For females traveling by themselves, it provides a level of safety and security that can't be had when going it alone.
Another benefit of traveling the Fez way is that you meet lots of other travelers. Most Fez'ers were Australian, with a few Americans, Brits, and South Africans thrown in. Everyone is really friendly, and being budget travelers like us, they all love to talk about the far-away lands they've visited. Our bus left Istanbul with nine people - Darren, our off-sider, Murat, our driver, Stephanie from New York, Di and Jade, mother and daughter from Australia, Karen and Jane, also from Australia, and us. Our first stop: the town of Canakkale and the World War I battlefield of Gallipoli.

At sunrise on March 18, 1915, a combined force of soldiers from France and Great Britain, and its colonies of Australia, New Zealand, India, and Newfoundland landed on a lonely stretch of beach on the Gallipoli peninsula in Turkey. Allied commanders, including Winston Churchill, believed that by controlling Gallipoli and the body of water into which it jutts, the Daranelle Straits, a potentially important supply route for the Germans could be cut off. Shunned by the Allies previously in the war, Turkey had sided with the Germans, and had built up a significant force on the Gallipoli peninsula in anticipation of such an attack. The Allies, expecting to quickly rout the inferior Turkish forces, got a lot more than they bargained for, and a battle that was supposed to take the better part of a day went on for nine months, ending in a complete Allied withdrawal.

When Great Britain put out the call to its colonies for men to enlist to fight the Germans, young men from Australia and New Zealand responded en mass. They were known as the Australian and New Zealand Army Corps, or ANZAC. Not quite sure what to do with them, the Brits sent the men to Egypt for training, where they languished for many months, waiting for action. Story after story is told at Gallipoli of the bravery and valor of these men, who had come thousands of miles to fight in a war that most of them probably didn't fully understand. It is impossible to walk down the many rows of white granite headstones and not feel heavy with tragedy and loss. The sentiments of grief-stricken parents and wives are recorded there, such as "Our only son, much loved", and "A man hath no greater gift to give, than to lay down his life for a friend". The wind makes a lonely and haunting noise as it blows through the pine trees, and as I stood there, unable to speak, I thought of the oftentimes futile nature of war, and the brutal waste of life and potential that accompanies it.

The Gallipoli battle produced heroes on both sides, most notably a Turkish commander named Mustafa Kemal. Defying direct orders from superior officers, Kemal planned and executed a surprise attack on the Allied forces while suffering from malaria. Defying death several times, once when a piece of shrapnel hit his pocket watch instead of his heart, Kemal led the Turks to a glorious victory that day, which ultimately resulted in the Allied withdrawal. Acts like these, and words like, "I am not asking you to fight for your country I am asking you to die for your country." catapulted Kemal to military prominence and, ultimately, to the office of the presidency of the new republic, which he founded. Taking the name of "Attaturk", which means, "father of the Turks", Kemal instituted numerous reforms, including abolishing polygamy, adopting a constitution, and removing Islam as the state religion. He even changed the style of dress, outlawing the wearing of the fez for men and forcing women to uncover their heads. Truly, Turkey bears little resemblance to its Middle Eastern neighbors. His life story is taught repeatedly to Turkish school children, and it is against the law to defame him in any way.
During the intense fighting at Gallipoli, the ANZAC forces became admirers of the brave Turkish soldiers, and vice versa. There are many anecdotes related at Gallipoli about friendship between Turks and ANZACs - sharing water and cigarettes, caring for the wounded, even giving a few cricket lessons. Thousands of Aussies and Kiwis come to Turkey for ANZAC day on April 25th each year, when the bravery and heroism of each of the armies involved are remembered. The following words are from Attaturk, and they sum up the intense feeling that the Turks have for the ANZACs:
Those heroes who shed their blood and lost their lives,
You are now lying in the soil of a friendly country.
Therefore rest in peace.
There is no difference between the Johnnies and the Mehmets to us where they lay Side by side,
Here in this country of ours.
To the mothers
Who sent their sons from far away countries,
Wipe away your tears.
Your sons are now lying in our bosom
And are in peace.
After having lost their lives on this land they have become our sons as well.
We were the only Americans in our tour group, and the usually jovial folks from "down under" were somber and reflective. Gallipoli is a great source of pride for them, and the battle represents the beginning of the movement for Australian and New Zealand nationalism. Ataturk's words are proof that people of all nations honor those who lay down their lives for their countries, regardless of which nation they die fighting for.
Kusadasi, Turkey
June 28 through June 29, 2000

After a night in a bare bones budget hotel in Canakkale, we were off on the bus again early the next morning. Our first stop was the ruins of the ancient civilization of Pergamum. Every time I visit Roman or Greek ruins, I always come away feeling that those guys had an uncanny knack for picking the coolest places to set up housekeeping. Pergamum is no exception. Situated high on a hillside the city affords a commanding view of the surrounding valley, which was no doubt a military consideration. Founded by Philetarus in 281 B.C., Pergamum was an important city to the Greeks, because they needed yet another place to showcase the many spoils of war that had come their way during the many successful campaigns of Alexander the Great (who was, by this time, dead). The library at Pergamum was said to be the largest in the world at that time, and when the Egyptians found that out, they were jealous, so they cut off the supply of papyrus to the Greeks. No papyrus, no books. But the Greeks outsmarted them by inventing a way to thinly slice animal skins, thus inventing parchment. The Egyptians got the last laugh, however, when Marc Anthony pillaged the library at Pergamum in order to give the books as gifts to his beloved Cleopatra.
After another couple hours ride, we arrived in our destination for the night, Kusadasi. Kusadasi is a favorite stop for the cruise ships, so the town is filled with jewelry and leather stores, and sales guys trying hard just to get you to, "Take a look! No charge for looking!". We managed to avoid them, but the local restaurateurs competed just as hard for the right to serve us dinner. Promises of "First drink free!" and "10% off, just for you!" both confused and enticed us, but we finally sat down to dinner at an outdoor cafe, sharing a table with a nice couple from England who explained how the Euro 2000 soccer tournament worked. In case you've been living on the moon and don't know, soccer (football) is big, big, big, in Europe, Africa, and South America - just about everywhere but the States, where it's slowly gaining in popularity. When we were in Morocco, a guy made a sneering comment to me about how bad our soccer team was, and when I pointed out that we were the reigning WORLD CHAMPIONS of women's soccer, he looked at me as if I had just finished speaking in a rare Polynesian dialect. Women don't play any sports in Morocco, and it will be a long time before there are any soccer teams for women there, I imagine.

When we arrived in Kusadasi we noticed banners advertising some type of festival, and being drawn like iron filings to a magnet to any type of outdoor musical event, we followed the locals down to the water front, where a large stage was set up. We saw a free performance of Ayna, whom were were later told was the number one band in Turkey. The music was good, and had something of a rock beat that sounded halfway normal to western ears. We were virtually the only tourists in a crowd of about 10,000 people, and everyone knew the words to EVERY song. Everyone except us, that is. The crowd ranged in age from 7 months to 70, and whole families danced and enjoyed the show. Little girls sat on their dad's shoulders, and teenage boys clowned around and shared beers.
Ancient Ruins of Ephesus, Turkey
June 29 through June 30, 2000

I had been looking forward to visiting Ephesus for quite some time. Founded over 3000 years ago by the legendary race of the Amazons, it has played host to many civilizations. We again got an early start on the bus, having picked up Andrew from New York, and Katie, Alyssa, Christie, and Craig from Australia, and left behind Jane and Karen.
We all agreed that we wanted to get a guide at Ephesus, and Darren had told us that we shouldn't have to pay more than 20 million lire for a two hour tour. The bus dropped us off at the entrance, and would pick us up at the exit around three hours later. Upon entering the turnstiles, we were approached by one of the official guides, who told us that he would give us a two hour tour for 40 million. When we expressed shock and told him that we couldn't pay that, instead of either walking away or negotiating with us, the man proceeded to get rude and confrontational, telling us that a cheaper guide would give us a bad tour and wouldn't speak English very well. He kept this up for a good ten minutes while we tried to discuss what to do, and we were getting very annoyed. Finally Wiley walked over to the group of guides milling about the entrance, and came back less than 30 seconds later with the news that he had procured a two hour, guided tour for 20 million lire. After talking to some other Fez'ers, we found out that they had all encountered this rude man, and had been so turned off that they wandered through the ruins by themselves. Nail (pronounced "Nile", like the river) turned out to be one of the best guides I have had anywhere, and the lesson we learned here is not to do business with someone you're not comfortable with.
To start the tour, which turned out to be an extensive education on Ephesus, Nail led us over to a shady spot and gave us a lecture about the history and culture of the place. Having degrees in both archeology and history, and having guided tours at Ephesus since 1968 as well as having worked on the excavation of the site, he was well-qualified to speak on the subject. Founded almost 3000 years ago by the Greek Androclus, the site was chosen after an oracle cryptically told Androclus to chose the site indicated by the fish and the boar. As Androclus grilled fish for lunch one day, one of them jumped from the pan and caused a burning coal to ignite some nearby brush. A frightened wild boar ran from the bush, and Androclus, satisfied that this was the site the oracle had meant, founded the city.

Playing host to several civilizations, Ephesus prospered, partly because of the fertile lands around it, and partly because of its excellent location as a trading port. When the Romans occupied Ephesus, they boasted that as many as 250,000 people lived there. As an archeological site, it is an outstanding example of the amazing results of a careful and loving restoration. The Library of Celsus, which is the centerpiece of Ephesus, was reconstructed of more than 85% of the original components - a number practically unmatched in archeological restorations. In addition, the restoration is able to withstand an earthquake - a very real threat in Turkey - of up to 7.8 on the Richter scale. Celsus was once the Roman governor of Asia Minor, and upon his death his son, Tiberius Julius Aquila, built the library to house his sarcophagus. The library was built with a system of natural air conditioning to keep the interior cool and protect the books from the damaging humidity of the nearby ocean. The building is double-walled, with approximately two to three feet of space between each of the walls. Even today, standing in that space, you feel a remarkably cool, dry breeze, despite the heat of the day.

It is possible to look down from a small outcropping of rock above the Library of Celsus at the main square of Ephesus and imagine toga-clad people, bustling around the main market or agora, visiting the public baths and toilets (which are extremely well-preserved, at in ancient times even had running water), and filing into the Great Theatre (seating for 25,000) to watch a play or hear St. Paul speak. In fact, it was Paul who was the cause of a near-riot in Ephesus in the Great Theatre. It seems that his efforts to convert the Ephesians to Christianity were so successful that the business of making gold, silver, and bronze statues of the goddess Artemis hit a pretty big slump. A mob gathered, taking with it several of Paul's traveling companions. Eventually the Christians were released, and Paul made his way on to Macedonia, choosing to communicate with the Ephesians via the mails from that point on.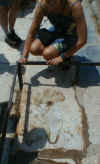 If you've ever wondered why people say that prostitution is the world's oldest profession, it's because of discoveries that archeologists have made at places like Ephesus. The rock in the picture at the beginning of this paragraph contains a kind of "advertisement" for the services of one of the professional ladies in Ephesus, of which archeologists estimate there were about 2000 of at one time. At the lower right hand corner of the rock, you can see a carving of the face of a women. Above that, and unfortunately you are unable to make it out in the picture, is something of a road map, showing where to turn to get to the town brothel. Finally, you can see the outline of a foot, which serves as something of a deterrent to the minor male population of Ephesus. Archeologists believe that the carving is of a woman's foot, and that males whose foot wasn't bigger than the woman's weren't old enough to purchase services at the brothel!
Everyone in our group loved Nail, and was fascinated with everything he told us. There is something so compelling about someone who enjoys their work, and Nail truly loves the ruins at Ephesus and the history contained there. He wanted so much to tell us everything he could about the place, that he ran between locations, and we ran after him. He raised his voice for emphasis, and at other times spoke in a revered whisper that drew us to him. He made Ephesus come alive for all of us, and I think we would not have enjoyed it half as much if we had had another guide. Instead of our agreed-upon two hour tour, he kept us for two and a half hours, and we loved every minute. At the end he told Wiley, who was the only guy in our group, that he was a very lucky man, because he had a beautiful harem! If you ever go to Ephesus, search Nail out, or one of his seven children, whom he promised us would be guiding tours there for many years to come.

Back on the bus, we continued our trek on to the quiet village of Koycegiz on Koycegiz Golu Lake. We stopped along the way for a short dip in a really nice swimming hole. Wiley and a few others climbed to the top of the waterfall for a plunge into the chilly water. That's one of the really nice things about travel on the Fez bus - it's not all about seeing the sights. They take you to some out of the way places, where you can relax and enjoy some time with new friends.
Saklikent Gorge and Fethiye, Turkey
June 30 through July 3, 2000
Back on the bus the next morning, we headed for a lunch stop and hike in Saklikent Gorge. More than 18 kilometers long, Saklikent is a deep and extremely narrow gorge through which runs a beautiful river of milky green water. Several restaurants have built platforms out over the icy water, and we reclined on pillows and ate gozleme for lunch, which is a delicious Turkish pancake filled with your choice of meat, cheese, potatoes, or spinach.
Lots of people who come to Saklikent stay at the restaurants close to the mouth of the gorge, and never venture back into it. Our goal was to take the whole Fez group, which now totaled about 20 people, back into the gorge as far as the third waterfall. Darren had warned us not to bring anything into the gorge that we didn't mind getting wet. This included cameras, so unfortunately, I don't have any pictures, so I'll just have to try to describe what it looked like.
There are a couple of water sources that come together to make up the river. One is icy cold and the other is slightly warm. When you enter the gorge, you cross the icy cold stream, and just about the time your feet are turning blue, you get across the cold water and into the more temperate water. Wiley and I had worn our leather sandals, and the restaurant we ate lunch at (conveniently) rented attractive plastic shoes. There were no ladies shoes big enough for me, so I got a snappy pair of black pseudo-wing tips, complete with molded fake laces. About five minutes into the walk, a blister showed up on my left heel. Just the first of much pain to come...
As our walk up the gorge continued, the opening at the top became narrower and narrower. The rocks took on the look of marshmallow creme, and at some points the gorge closed up completely over our heads. Pretty soon we were tramping through knee-deep water, and at some points it got waist deep. At this point, it became obvious why you wouldn't want to have your camera back there. Most of the hike involved scrambling over the slippery white rocks, but eventually we came to the really tough part of the climb: the waterfalls. In a experience that reminded me of those corporate challenge retreats, our whole bus came together with a strong teamwork showing to get everyone up and over the waterfalls. It was a little scary at first, as you had to swim under the waterfall and come up under the rope, with the water from the eight-foot drop pounding on your head. Once I had a grip on the rope, one of the guys in the group helped me get onto the rope, and helped me to navigate the various foot and hand holds on the way up. As soon as I could get my hand up to the top rock, another guy was waiting to pull me over the top. It was an exhausting experience, but it was really cool to stand at the top and look down and think, "Wow! I got up here!". Everyone in our group made it over the first waterfall, but several of the women fell back at the sight of the next rope and the next waterfall. An exercise like this really highlights the differences in physical strength between men and women. But several of us charged on, and made it as far as any of us could go. The last waterfall we got to had no rope and would have required everyone to squeeze between two huge, slippery boulders, so we started the trip back down. Once again, proving that the trip down is just as hard or harder than the trip up, we all struggled and fell a few times getting back to the mouth of the gorge. The really great part was that a lot of the rocks we had scrambled up had become slides on the way down! We were really glad to get down, because we had begun to shiver from being in the cold water for so long, but it felt like a great physical accomplishment and an excellent display of teamwork.

Once out of the gorge, we headed on to our destination for the night, Fethiye. The bus dropped us at a hotel called the Boathouse, where for 10 million lire a night we had a great room with a huge king-size bed and a pool. Di, Jade, and Stephanie all stayed at the Boathouse for the next three nights with us, and the rest of the Fez crew went on to the nearby town of Oludeniz. We spent the next few days relaxing and sunning, and exploring the quaint town of Fethiye. There was some type of festival going on in town (it seems to be festival season in Turkey), and one afternoon we watched local boys participate in races and games, including "Chase the Frightened Duck Across the Harbor!", and "Try to Walk to the End of the Greased Pole Without Falling Into the Water!". We spent one night exploring the local nightlife, and even did a little boogying to Tom Jones' "Sex Bomb". How old is this guy???
Olimpos, Turkey
July 3 through July 5, 2000

One more time, back on the Fez bus, for our last ride. This time our destination was Olimpos, on the Mediterranean. On the way we stopped off for a swim at a beautiful spot, where the water was so clear and blue it was amazing. While the Mediterranean beaches are too rocky for my taste, the water is so full of salt that you float like a cork, so you can just sort of hang out in deep water for quite some time. Despite the beauty of the Med, Wiley and I both still prefer the beaches of the Gulf Coast, especially those of Orange Beach, Alabama.

To call Olimpos a "town" would be a huge overstatement of the truth. There is a beach there (again, very rocky - if you go to the Mediterranean, bring your water-proof sandals), and seven or eight little places to stay. The Fez bus stopped at Kadir's Tree Houses for the evening, so that's where we got off, more than a little swayed by the free welcome beer they dangled in front of our noses.

The big attraction at Kadir's Tree Houses is pretty obvious: the tree houses. Literally, much of the accommodation there is high above the ground, in little shacks resembling something you might have built as a child with some scrap lumber your dad gave you. Certainly, however, you would probably never have considered turning this rickety shed into a business, but Mr. Kadir did, and he was making a healthy living at it, from the looks of things. One of the employees, who was giving us our check-in briefing, pointed to one of the tree houses and told us that it had twelve bunks in it. Upon hearing this, and seeing that the place he was pointing to was no bigger than the average American walk-in closet, Wiley and I decided to opt for the double bungalow. Each place had a name at Kadir's, and our shack was called the "Love Shack", apparently because it was only slightly bigger than the double bed that it contained. I like to think of myself as one of those people who believes that which does not kill you will make you stronger, so we settled in for a couple nights roughing it at Kadir's.

Besides the beach, the other attraction in Olimpos is The Chimaera. Those of you who either know your Greek mythology or have seen "Mission Impossible 2" know the story; for the others I'll give you a brief rundown. It seems that Chimaera, son of a volcano, was a ferocious flaming monster that lived on Mt. Olimpos. The Lycian king ordered the hero Bellerophon to kill the monster, and he gladly obliged by flying over the mountain on Pegasus, the winged horse, and pouring molten lead into the monster's mouth. In reality, not much is known about the source of the flames. A gas of unknown composition still seeps from the rocky sides of the mountain, bursts into flame when it hits air, and causes many small fires to burn continuously, making the mountain resemble the site of a Boy Scout Jamboree. You can cover the flames with dirt and they will go out, only to re-ignite themselves sometime later. In ancient times the flames where much larger, and ships could see them from the sea many miles away. If you've clicked on the thumbnail at the beginning of the paragraph and examined it at closer range you've noticed that Wiley has his hand in a water bottle. This is because he attempted to move a rock away from one of the flames to "get a better view of the flame". Not a good idea, as the rock was not much cooler than the flame itself, but thanks to my prompt and caring medical attention, we were able to avoid any involved medical incidents.

The next day was our last in Olimpos, and was also the Fourth of July. Since we were in Turkey and surrounded by people from Australia, we were pretty much the only ones who noticed. No barbeque, no watermelon, and no fireworks, but we did manage to sing every patriotic song we could think of while walking down the road at night. The next day we were up early to catch the mini-bus for a ride to the bus stop, because we had an all-day journey ahead of us to Ankara to meet up with the group of Americans that we would be participating in a cultural exchange program with. We had to say goodbye to our new friends, who were continuing on to the Cappadocia region (we are scheduled to be there in a few days) the next day. They didn't seem too thrilled about staying another night at Kadir's, as both the water and electricity had gone out right before we left. We really enjoyed spending time with some lovely people and making new friends, and hope our paths cross again at some point.
Click here to continue in Turkey with "Cultural Differences"